Inter-House Competition
Inter-House
Which house will you be in?
When you arrive at NUSA, you will be sorted into one of three houses: Bolt, Farah and Ennis-Hill.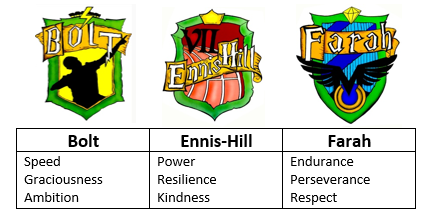 bolt house

People in Bolt House are known for their unbeatable speed. They are always gracious whether they win or lose, showing good sportsmanship to their competitors no matter how much pressure they are under. Bolt pupils are very ambitious, always striving to be the best that they can be and achieve as much as they can.
ennis-hill house

People in Ennis-Hill House are good all-rounders and have the power needed to excel in lots of activities. They are very resilient, so even if things don't go their way they are able to overcome this and bounce back even stronger. They are always kind to those around them, supporting and encouraging others whilst still showing the grit required to win.
farah house

People in Farah House are best known for their endurance as they have the stamina to keep going until the end. Their perseverance sets them apart as no matter how difficult things get they never give up. They always show respect to the people around them and are a role model for their younger peers to look up to.
competitions
Each half-term there will be an opportunity for you to represent your House in a range of different competitions. These include:
Netball

Football

Handball

Dodgeball

Rounders
Each competition is split into KS3 (year 7 and 8) and KS4 (year 9 and 10) and sometimes boys and girls depending on the activity. Points from all competitions are then added together to give the overall score for each house.
The all-important trophy is presented at the end of Sports Day, which is worth double points so everything is still to play for! Last year the ribbons were red as Ennis-Hill lifted the trophy. Who will it be in 2021?!
house captains
Each House has a male and female House Captain per Key Stage, who are responsible for organising the teams for each event. House Captains are appointed in the first term of the school year, with all those who are interested having to apply for the position. From here, several pupils are selected for interview with a panel of PE teachers where the successful candidates are given the role. It is a great honour to undertake this role for your house, giving those in the position the opportunity to demonstrate and develop their leadership, communication and organisation skills throughout the year.
July 2022
| M | T | W | T | F | WE |
| --- | --- | --- | --- | --- | --- |
| | | | | 1 | 2 |
| 4 | 5 | 6 | 7 | 8 | 9 |
| 11 | 12 | 13 | 14 | 15 | 16 |
| 18 | 19 | 20 | 21 | 22 | 23 |
| 25 | 26 | 27 | 28 | 29 | 30 |