Attendance
Attendance
Expectations
Research shows that good school attendance has a significant impact upon children's success in learning. Good attendance helps children to achieve good results, subsequently helping them to fulfil their potential and gives them a chance of a better future.
At NUSA, we are committed to ensuring that each and every child in our school fulfils their potential. To help us achieve this we want all of our children to have the best possible attendance.
We expect all students to secure attendance of 96% or above.
Every day that your child is absent from school is an opportunity missed. Schools and parents / carers have a shared responsibility to ensure that children attend school regularly and on time.
Parental support is critical in ensuring that children achieve in education. At NUSA we work closely with families to support them to achieve the best possible outcomes for their children.
What can parents/carers do to help?
Ensure your child attends school every day and on time.
If your child is not well enough to attend, contact the school by 9am on the first day of absence.
Try to make dental and medical appointments outside of school time or at weekends.
Take family holidays during the school holidays. There are 175 non-school days a year for holidays, cultural experiences and family time, and as a result the academy are unable to authorise holidays taken during term time.
Contact us immediately if you need help or support with your child's attendance or punctuality.
Together we can to achieve consistently high attendance and punctuality. There are only 190 school days in a year and we want to see every child at school because every school day counts!
COMMUNICATION & Supporting students
There are several people that can support your child's attendance including Tutor, Head and Assistant Head of Year and our Attendance officer. If students are at risk of falling below 90% we will contact you to discuss barriers and strategies to support your child. If improvements are not made you will be invited in for a meeting to discuss the strategies and actions in greater depth. Below is the attendance communication chart.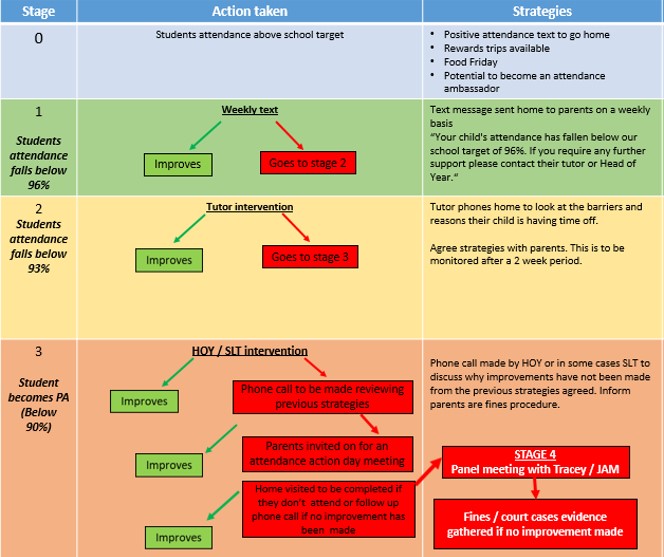 Attendance rewards
There are several ways at NUSA we reward good attendance these include:
Attendance ambassadors – those students with 100% over the last 3 year get to become an ambassador which allows them to jump the lunch queue.
Food Friday – The tutor group in each year group with the highest weekly attendance gets a chocolate bar as a prize.
Attendance trips – Every half term there is an opportunity to attend a trip for those students who have had 100% for that term. Trips so far have included Ice Skating, Clip & Climb and to watch England at Wembley.
Punctuality
When pupils arrive late, they miss out on essential instructions given at the beginning of the lesson. This can significantly reduce achievement. Your child may also feel awkward arriving to the classroom when everyone else is settled. Furthermore, when one pupil arrives late, it disrupts the entire class and the teacher – everyone's education is compromised.
Furthermore a student that is late to school will serve a 20 minute lunch detention on that day. Any problems with your child being late please contact your child's tutor in the first instance.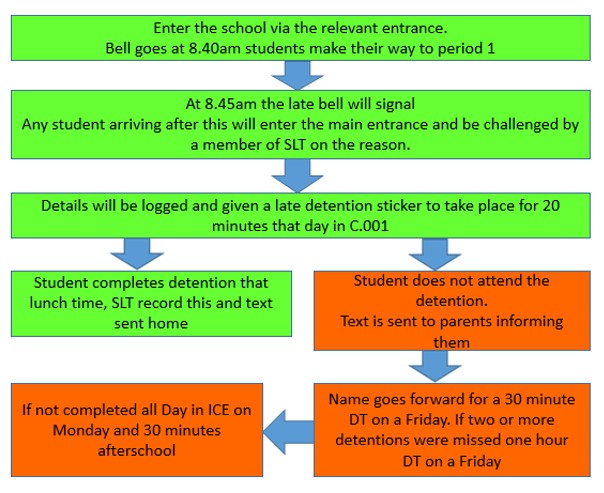 September 2020
| M | T | W | T | F | WE |
| --- | --- | --- | --- | --- | --- |
| | 1 | 2 | 3 | 4 | 5 |
| 7 | 8 | 9 | 10 | 11 | 12 |
| 14 | 15 | 16 | 17 | 18 | 19 |
| 21 | 22 | 23 | 24 | 25 | 26 |
| 28 | 29 | 30 | | | |